December Spotlight—Lisa Michael, Dawson Summer Initiative

Bryan Ziegler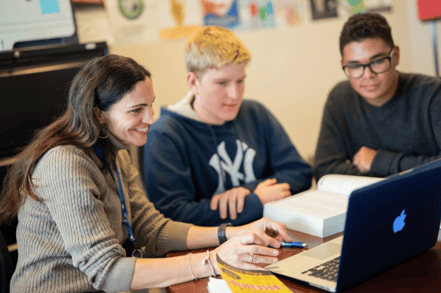 Method Test Prep Spotlight seeks to highlight MTP clients, friends, and acquaintances who are doing amazing things in education. For each installment of the Spotlight, we will select a dedicated individual or organization to profile, and will then interview the awardee to share their story. Through the Spotlight, we hope to develop a bank of successful experiences and practices for other schools and educators to learn from.
All of us at Method Test Prep would like to thank our wonderful clients, partners, and readers for a successful 2019. We hope your holidays are full of quality time with family and loved ones, and we wish all of you a very fruitful 2020. This has been another record-breaking year for MTP, as our reach and impact have expanded significantly. We owe our success to the many dedicated educators and parents we work with every day; without their commitment, we could never impact so many young peoples' lives.
For the December Spotlight, we step out of the traditional education box to recognize an amazing summer program that both provides students with an immersive experience rooted in real world application and translates into a long-term commitment to student success. Since 2013, Lisa Michael has served as the Director of the Dawson Summer Initiative (DSI), which is hosted by the Alexander Dawson School in Lafayette, Colorado. The DSI is a fully funded summer program that hosts over 80 6th- and 7th-grade scholarship recipients from public schools in the surrounding Boulder Valley, Adams 12, and St. Vrain school districts. Through an application process, coordinators select high achieving "Scholars" to join a group that will navigate an intensive five-week program of thematic work focused on developing practical solutions to large real-world problems. Recent themes have included Water, Epidemics, Energy, Food, Climate, and Transportation—all major issues these young Scholars will face as they grow to become leaders of their generation.
Scholars who complete the program are invited back in subsequent years for two-week leadership sessions until they graduate high school. The idea is to help identify those with the capacity to think and act creatively and entrepreneurially. By giving the students the tools to develop their passions and lead others, the program prepares them to impact the world in years to come.
As Director of the DSI, Lisa remains engaged with participants as they move through their high school careers, providing continuous college and career counseling to all who need it. She regularly meets with students and their families to discuss all manner of academics: program and course selection, college lists, college essays, applications, and, of course, test prep using Method Test Prep's online self-paced ACT & SAT program. Lisa loves that she can provide the Method Test Prep program to students who attend different schools. She also appreciates how easy it is for students to work at their own pace and on their own time without too much instructor involvement. When asked about their experience with the Method Test Prep program, the Scholars report that they appreciate taking practice tests and immediately seeing their results.
In an area where local public school districts offer school choice and a wide array of specialized programs and charter schools, Lisa's vast expertise in helping families find the correct fit for their children is invaluable. She thus provides her students with an incredible resource—one that would likely cost each family thousands of dollars if they had to seek out comparable advising on the private market. Lisa's impact on the local community at large is not one you'd normally see from a counselor at a private school; it speaks volumes about her commitment to doing everything she can to provide access to those in need. Lisa epitomizes someone who has gone above and beyond what is expected. She has created a niche that allows her to positively influence many young people each year.
More About Lisa:
Q: What do you enjoy most about your job?
A: I love every aspect of my job! The scholars and the families that I work with are huge sources of inspiration and I like that my job offers a variety of activities, from admissions into the program to curriculum development to academic advising regarding high school choices and college preparation.
Q: Do you have any hobbies?
A: I love watching and playing a variety of sports. Currently, I am an avid news-watcher and political enthusiast!
Q: How do you like to spend your summers or vacation time?
A: My career has frequently required me to work during the summer, but I like to spend any free time I have with my husband and two daughters as well as travel to see family and friends.
Thanks again to Lisa Michael of the Dawson Summer Initiative for being a shining example of great things happening in education!
If you would like to nominate an individual or organization working with MTP to be considered for a Spotlight Award, please send an email to support@methodtestprep.com with the subject line Spotlight. Please also share this story with people in education as well as with parents and other interested parties!