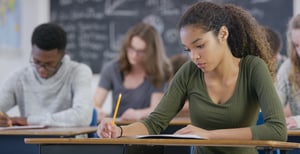 After a full night's rest and a healthy breakfast, it's time to head to your SAT or ACT. Do you know what you should be bringing with you? This article contains a checklist of everything you'll need for your standardized test as well as some items better left at home.
What To Bring To the SAT and ACT
Here are some of the necessities for either standardized test.
Admission Ticket
One of the most important things you need to bring with you to the SAT or ACT is your admission ticket. This should be a printed version, as it can't be on your phone or any other device. Without your admissions ticket, the test coordinators will not allow you to sit for your exam, even if they know you on a first-name basis.
If you've lost your ticket, you can always re-print it from within your account on the CollegeBoard or ACT website.
ID Card
Both the SAT and ACT require you to bring an acceptable form of photo ID to the test. Without it, neither testing center will allow you to sit for the exam. School-issued photo IDs, learner's permits/driver's licenses, and passports are all acceptable.
An Approved Calculator
Though you may regularly use your cell phone when you need a calculator, you are not permitted to do so on the SAT or ACT: you need to be using an approved graphing or scientific calculator. If you bring one that is deemed too powerful for the test, you will not be allowed to use it.
We highly recommend you use a graphing calculator. Make sure that you're familiar with its functionality and know how to use it to perform common arithmetic and graphing tasks.
You can find more information on ACT approved calculators here; for the SAT's list of approved calculators, check out this link.
Batteries for Your Calculator
While it's not likely that your calculator will run out of batteries during the test, it's entirely possible, so you should be prepared. Have a few extra batteries on hand in case this happens to you.
#2 Pencils, an Eraser, and Pencil Sharpener
You no doubt already have a pencil handy for the standardized tests, but you can't go wrong with backups.
An eraser is also a good idea, even if your pencils already have them. Not all erasers work as well as others, so you want to make sure you have one that will thoroughly erase even a dark mark from your answer sheet.
Snacks and a Drink
You'll get breaks during the SAT or ACT, and while you should have a healthy breakfast before your exam, you may get a bit hungry over the course of three to four hours you'll be sitting in the exam room. Having a few snacks on hand as well as a drink can get you through the tests without your stomach complaining. We recommend against super-caffeinated or sugary beverages and snacks; while these may provide a temporary rush of energy and attentiveness, they're also more likely to make you "crash" soon after.
Remember though: these snacks are for the break only. You can't bring out a bag of chips during a section.
A Watch
A watch is also a helpful item to have during the standardized tests. Not all testing rooms will have wall clocks, and you will want to be cognizant of the time remaining in each section.
Make sure the watch you bring is one on which you can turn off alarms or any sort of beeping. Any noise that comes from your watch could have you dismissed from the test. A cheap digital or analog watch will do.
A Bag
It seems obvious, but many students forget. A bag should absolutely be brought to the SAT and ACT! This can be a backpack, a purse, or a Ziploc bag. This will allow you to keep your snacks and personal items under your desk during the tests.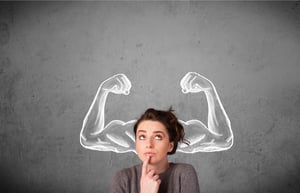 Your Brain!
It may sound silly to say, but don't leave this at home! As mentioned before, you should have a full night's sleep and a healthy meal before your exam so you can be ready to go at start time. Be mentally prepared.
What Not to Bring to the SAT or ACT
There are a few items that can get you into trouble if you bring them to the SAT or ACT.
Your Cell Phone
If you need to bring a cell phone, leave it in your car or in your bag. If you're leaving it in your bag, make absolutely sure it is off—not on "vibrate," "silent," or "do-not-disturb," but actually turned OFF. If your phone rings or buzzes at any point during the test, or if you are caught using it during testing, you will be dismissed and your score will be voided.
A Smart Watch
While a watch is helpful and recommended, a smart watch should be left at home. There is no need for something so advanced during the test, and you will be asked to remove it anyway if you enter the SAT or ACT testing center wearing one.
Study Notes and Guides
Any notes you took during your preparation for the SAT or ACT should absolutely be left at home. To avoid temptation, don't even put them in your bag.
Other Electronics
Many other electronics are banned from either standardized test, like laptops, cameras, recorders, and more. It is best to stick to the approved calculator and a simple watch when it comes to technology.
Preparing for the SAT or ACT isn't restricted to studying! You should be sure you're ready to go on the test date, and this includes following the approved items list. You don't want to be asked to leave before you've even completed thirty minutes of the exam! Before you head out the door, make sure you at least have a calculator, pencils, admission ticket, and photo ID, but remember that the other approved items on this list can be beneficial to bring as well.