May Spotlight—Kyla Williams, Student, Uniondale (NY) HS Class of 2021

Tom Ehlers

Method Test Prep Spotlight seeks to highlight MTP clients, friends, and acquaintances who are doing amazing things in education. For each installment of the Spotlight, we will select a dedicated individual or organization to profile, and will then interview the awardee to share their story. Through the Spotlight, we hope to develop a bank of successful experiences and practices for other schools and educators to learn from.
This month's Method Test Prep Spotlight strikes new ground by featuring a student from a New York area high school. The interview was conducted and compiled by MTP President and Founder, Tom Ehlers. We fully understand the hardships and frustrations that COVID 19 and more recently the civil unrest have wrought on our youth. We thought it would be particularly uplifting to share the positive energy and enthusiasm towards the future that Kyla brings to the world.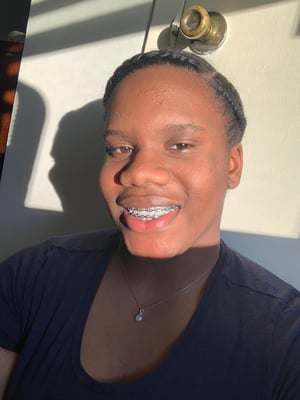 I recently received this email.
"This is Kyla Williams (Uniondale HS). We talked many times before and I figured I should update you on my progress with the Self-Paced Check List as my strategy might help other students.
I am almost completed with all lessons in both the ACT and SAT sections, since I started on April 8th. I have started off by doing one lesson each on both sections. Then when I got the hang I started doing two lessons each. Now as I am slowing down towards the end I am doing one lesson each once again.
I realized that the lesson on the different types of learners help me to find my studying style (I will include photos), and this was very new to me because I never ever studied for a test or anything for school.
Another thing I have realized is that there are many topics on the ACT that cross paths with the SAT so I never do two of the same lessons, leaving them for review at the end of my note taking process.
I think if the SAT and ACT were still in June this would have been the perfect strategy for anyone who needed to cram just like I believed I had to. I'm not sure if this helps improve the program in any way but I wanted to say thank you for as far as I got, and personally for my founded love and dedication to studying too. I'm sure it will serve me well when I take the test.
I hope you and your family are safe and well.
With a big thank you from Uniondale,
K. Williams
Working in education is a labor of love; the promise of helping students learn is what gets us out of bed every morning. Receiving a note like this is icing on the cake. We have received many such messages over the years, but a few things about this one stood out. Kyla worked consistently over two months and completed our entire SAT and ACT checklists. She demonstrated unusual maturity in taking our Learning Styles lesson to heart and showed acute self-awareness in putting this lesson immediately into practice. Finally, she took the time to express her gratitude.
I wouldn't bet against Kyla on the SAT and ACT. More importantly, I am sure she is going to enjoy a lot of success in life. I asked her if she wouldn't mind if we did a profile of her as part of our Spotlight series. She graciously obliged.
How did you find out about Method Test Prep?
Ms. Tarry, my school's college and career advisor, recommended an online presentation Method Test Prep was hosting.
What Method Test Prep Products or services are you using and how long have you been using them?
I have been using the Self-Paced Checklist since April 8th, 2020.
Did you have a specific goal in mind when starting to use our programs or services?
My specific goal when starting the Self-Paced Checklist program was to be able to get as much prep as possible before the June 2020 SAT & ACT. My goal scores are 1300 (SAT) and 28 (ACT.)
What do you like best about the Method Test Prep program or programs you are using?
The thing I absolutely love the most about the Self-Paced Checklist program is that each lesson is tailored to a variety of students! Personally I am both a visual and audio learner. Being able to hear the lesson and read it at the same time is awesome.
Do you have any verified or anecdotal results that you'd care to share?
Unfortunately, the SAT & ACT have continually been pushed back so I do not have test results to share. But personally I have grown from this program. I am a note taker now and I have never been before. I became very diligent including Method Test Prep into my everyday life, and if I miss a day then I make up work. Using this program makes me feel secure that in college it is very possible that I can always be at my peak as a student as long as I try hard enough.
What are your biggest challenges right now?
My biggest challenge right now is working toward the tests and not being able to take them. I am aware that not taking the SAT and ACT at an earlier date gives me more time to study but I do feel eager to truly know how much this program has helped me grow.
What does your college list look like? Do you have a favorite/dream school?
My college list is small—I tend to have a one-track mind when it comes to having a goal and being that I have a dream school, I am not focused on other schools at the moment (that's bad, I know), but I am a strategic person with backup plans so don't worry!
What do you want to pursue in college and afterwards?
In college I would love to pursue Criminology as a major. I grew up with a love for community service and serving other people. During my college career I would love to be part of the Coast Guard Reserves as well as getting involved with Greek Life because of its history of philanthropy. After graduation, I have high hopes of becoming a Special Victims Unit Detective (yes, just like the show!).
What are your hobbies?
I have plenty of hobbies! I draw, write poems, knit, volunteer and read avidly. Does doing my Self-Paced Checklist count as a hobby too? Put it on the list!
How do you like to spend your summers or vacation time?
I love to spend my summers being inside reading, watching YouTube. But my favorite thing of all is trying something new! The summer gives a lot of time to sit and be yourself and I am always looking for a new hobby!
It has been a pleasure getting to know Kyla these last few months. I look forward to hearing about her success serving others in the years to come.
**Use of Kayla's name, likeness and story were published with parental consent in writing.
If you would like to nominate an individual or organization working with MTP to be considered for a Spotlight Award, please send an email to support@methodtestprep.com with the subject line Spotlight. Please also share this story with people in education as well as with parents and other interested parties!