September Spotlight—Andrew Peterson, Math Teacher, Heschel School (NY) *Formerly Method Test Prep

Bryan Ziegler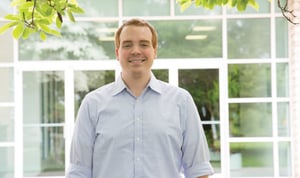 Method Test Prep Spotlight seeks to highlight MTP clients, friends, and acquaintances who are doing amazing things in education. For each installment of the Spotlight, we will select a dedicated individual or organization to profile, and will then interview the awardee to share their story. Through the Spotlight, we hope to develop a bank of successful experiences and practices for other schools and educators to learn from.
In this two-part Spotlight, Method Test Prep took a look inward to recognize the hard work and determination that has led to the forthcoming release of Methodize, our new online Learning Management System (LMS). The launch of Methodize is the culmination of a multi-year project coordinated between our development, content, support, and management teams to take our online test prep software to the next level. In this mini-series, we'll be shining the Spotlight on the two driving forces behind the content piece of the project: Evan Wessler and Andrew Peterson. We turn first to Andrew.
We'd like to express our gratitude and appreciation to Andrew Peterson, to whom we bid farewell as he begins the next phase of his career as a full-time teacher. The newest math department faculty member at the Heschel School on Manhattan's Upper West Side starts this new school year after a long and distinguished career with Method Test Prep that dates back to 2011. As an ace tutor and Director of Education, Andrew was integral to the success of our Mineola (NY) Center, where he ran classes and helped provide practice exam services. Andrew's hard work and varied roles have been crucial to MTP's growth over the years, and his work on MTP's materials and methods will continue to influence thousands of students for years to come.
For many years, Andrew worked with students on all aspects of preparing for the ACT and SAT. Echoing MTP's mission, he sought "to help students achieve more academically and to impact the families and schools [he worked] with in a positive way." In this effort, Andrew made extensive use of the MTP Self-Paced online program, which served as a critical tool for his students. His broad experience with the software and intimate familiarity with the needs of learners made him perfectly suited to play a large role in creating the next generation of our product. He believes that the audio and video tools within provide immense help by improving accessibility and capturing student attention. He is very excited for the upgraded user interface of Methodize, especially within the lessons and the new ways in which material can now be delivered to students. For example, a key feature of the new Methodize platform allows for a lesson to include dynamic inline questions and video to provide a fully immersive and seamless experience for students—learn, do, reinforce, continue learning. "It's truly an amazing facelift on an already very effective product," he says.
We are very excited about the release of Methodize because we know it will have a huge impact on the students who use it. Not only will Methodize feature an incredible amount of new content—largely produced by Andrew and Evan—but it will also provide teachers with features central to an effective LMS: course customization, quiz assignments, and, eventually, the ability to add their own content. If you're interested in providing content or building a new subject course within Methodize, please reach out to us at support@methodtestprep.com.
It's with a heavy heart that we celebrate Andrew's work in the MTP Spotlight—while we will miss his can-do attitude and rare skill set, we are excited for his future and the impact he'll have on his students. The families and students at the Heschel School are getting a true rock star, and we'll be watching to see the impact he has on the profession and the new heights he will surely attain. Best of luck, Andrew, and congratulations to the Heschel School community.
More about Andrew Peterson
How do you like to spend your summers or vacation time?
Upstate (NY) in nature. It's very peaceful to disconnect from the city.
What are your hobbies?
I enjoy hiking, camping, swimming, video games and watching sports.
What will you miss most about your days with Method Test Prep?
The students and the colleagues. It's a great place to work.
If you would like to nominate an individual or organization working with MTP to be considered for a Spotlight Award, please send an email to support@methodtestprep.com with the subject line Spotlight. Please also share this story with people in education as well as with parents and other interested parties!