Doing More With Method Test Prep: Evaluation and Full-Length Tests

Ethan M. Lewis

The most frequent question we hear about standardized college admissions tests is "which one should a student prepare for?" There is a great deal of overlap between the ACT and SAT, and most students score equivalently on both tests. Therefore, if a student prepares comprehensively for one test, he or she will likely only need a small amount of test specific preparation should he or she decide to take the other one later. In many cases, the best test to prepare for is one they are required to take by their state, but if they have a choice, the best option is the test that the student likes the best (or dislikes the least). Along those lines, the single best preparation tool for students who want to get ready for the ACT and/or SAT is a full-length practice test. Because these exams are not only tests of subject mastery, but also tests of ENDURANCE, students who make sure to do one or more complete, authentically timed tests will be sure to be prepared for the real thing.
Fortunately for students, Method Test Prep's self-paced, online program offers detailed diagnostic evaluation tests that are structured after the real tests but are much shorter. These evaluations give students the chance to experience the types of content they will find on the ACT and SAT and will provide them with a predicted score that is scaled just like the real tests. Students can then compare their scores and decide if they like one test more than the other. Additionally, the program features a total of four authentically timed, full-length tests (two of each exam) that students can take to build up their endurance, assess their progress, and hone their test taking skills. Most helpfully, when students finish each section of the evaluation or full-length tests, they will be able to review their answers and see detailed explanations of every question.
For teachers, counselors, administrators and other adults who use the program with their students, the program provides easy to use reports which allow them to view their students' scores. Because it is so easy to analyze the results of the evaluations and practice tests, many schools require students (such as rising juniors) to do the evaluations in the summer before school starts. Similarly, many of our schools have all of their juniors complete a full-length test a couple of months prior to their state ACT or SAT test date, leaving plenty of time for students to go back into our easy to use checklist of tasks to reinforce their mastery of the concepts they got wrong on the practice test.
Students can access the evaluation and full-length tests from the grey navigation menu bar on the left side of the screen:

If students choose the evaluation tests, they will see a menu that links to each section of the test; students can choose to do the evaluation in one sitting, or spread it out over multiple sessions. We strongly recommend that, if possible, students complete these evaluations at the beginning of their preparation to serve as a baseline to track their improvement, although this might be less necessary for a students who have taken an actual ACT or SAT in the past two months. Additionally, once students take these tests, their scores will be shown on this page, so they can always come back to remind themselves of how they did at the outset of their preparation.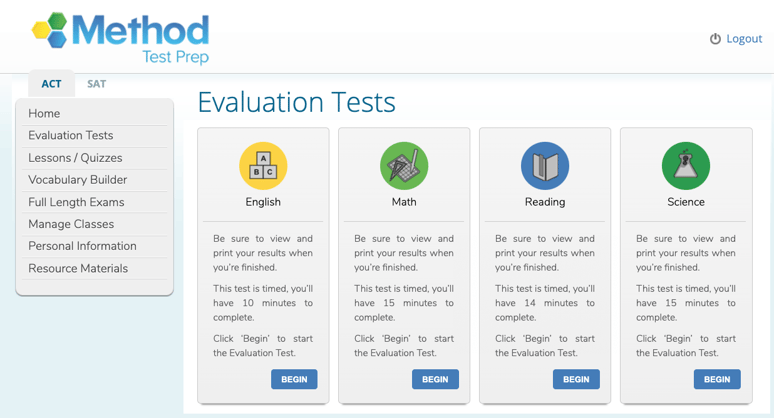 The same is true if students opt to try the full-length tests -- students can take each section of the test in one sitting or spread out over multiple sessions. Although taking the test all at once is a more realistic simulation, many schools like the ability to have students take the sections over several days within normal class periods, thus obviating the need to create a special schedule or set aside an entire morning for practice testing.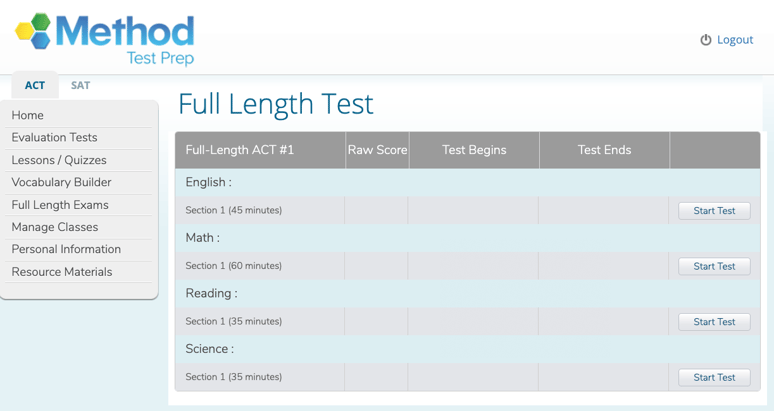 Both the evaluations and the full-length tests feature an easy to use interface that lets students simulate a paper test experience. They can do the questions in order or skip around by using the color coded navigation panel on the left side of the screen, which allows students to return to questions they have skipped and review or change any previously submitted answers. In the example below, the student has skipped questions 1, 2, 4, and 5, submitted answers to questions 3 and 6, and is currently looking at question 7. The student has yet to look at questions 8-15: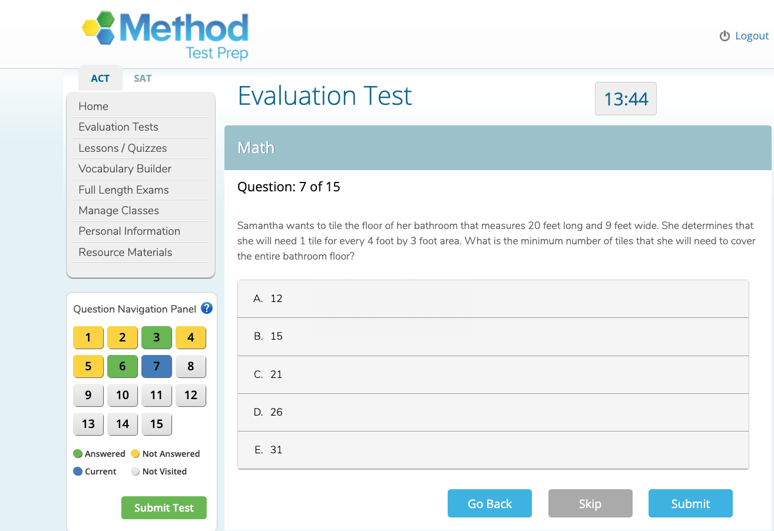 As noted above, it is very important that students review the tests. To do so, they can click the "View and/or Print Full Results" button. This will also allow them to save the test should they opt to review it later. IMPORTANT: students will ONLY be able to access the test for review purposes immediately its completion. If they neglect to do so, teachers can retrieve it for them later, but please leave time for your students to review, or at least to download, the test for review upon completion.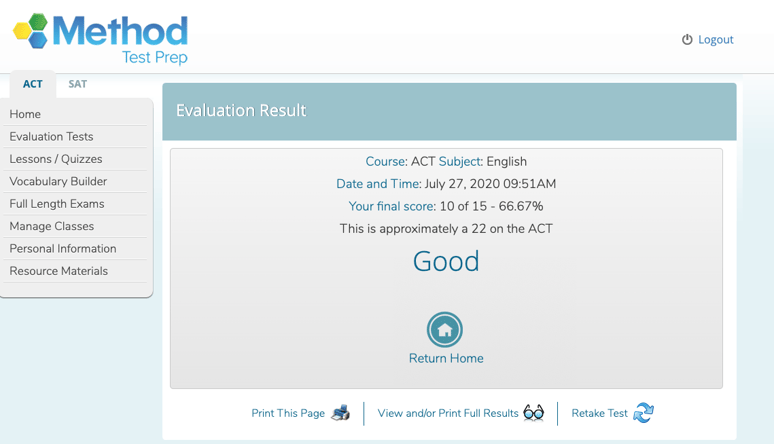 Finally, the evaluation and full-length tests are timed. Method Test Prep's program allows for the adjustment of a student's clock if he or she gets extra time on standardized tests. Please contact us at support@methodtestprep.com if you need assistance with that feature.
For teachers, counselors, and administrators, Method Test Prep's comprehensive, easy to read reports help make the program a valuable curricular tool. To see how your students have done on the evaluation or full-length tests, simply scroll halfway down the Staff Homepage, and you will see bar graphs of your top five highest scoring students:

These reports are updated daily, and you can click between subjects using the radio buttons on the reports. If you have more than five students, or if you are interested in a more comprehensive view, simply click the "View Report" button:
As an extra bonus, clicking the eyeball under the "View Dashboard" column will let you see the actual test the student took, including all of the answers he or she submitted.
Whether students use the program at the behest of their school or purely as a self-motivated practice tool, the evaluation tests are a very important starting point in their preparation. After students have worked through the checklist of tasks, the full-length tests are a great way to assess how far they have come. For teachers running a test prep class, the tests also make excellent mid-term and/or final exams for their students, and the results are easy to retrieve and put in a grade book if necessary.
If you would like to brainstorm ways to use Method Test Prep's evaluation and full-length tests with your students, or just want help with how to use Method Test Prep, please contact us.